How well are we doing?
Editor's note: We will soon be updating our policy comparisons and case studies to include our 12 newest countries: Germany, Serbia, South Korea, USA, Ethiopia, Australia, Spain, Italy, Nigeria, Turkey, Indonesia, Japan.
No-one wants to see nature destroyed, forests cut down, and water polluted – so why does it happen? Too often, the answer from governments, business and the media is simply "that's just economics". Whatever they may be worth to local communities or the global commons, a rainforest is worth more cut down than left standing, then it will be cleared. Nature-based fiscal reform is about changing this by channelling funds towards nature, and reforming those incentives that drive unsustainable economic activity.
The 20 countries reviewed so far have taken moderate to weak action on fiscal reforms to support nature, with all of the 20 countries reviewed - aside from Brazil - having some relevant reform or environmental tax proposals. As with many other policies, this entry-level progress is matched by a lack of ambition at the highest level, with no countries having model policies that envision a full reorientation of economic incentives and a growing budget for restoration of nature.
Botswana, Senegal, and Peru all have globally significant biodiversity, but currently have minimal policies in place for providing an economic rationale for protecting them. Brazil is currently a casestudy in destructive policy, with the minimal incentives that existed being rapidly reversed. India, Canada, Sweden, and the United Kingdom have each made the some progress in introducing environmental taxes into all sectors, including aligning them with climate objectives. Canada has committed to phase out fossil fuel subsidies by 2020, and Sweden has adopted a flight levy to align with the polluter pays principle.

Join the debate
About this policy
Nature and biodiversity are in crisis. Plants and animals are going extinct at a rate not seen since the end of the dinosaurs, 65 million years ago; by 2050 we may have lost as many as 50% of all species. Forests, jungles, swamps and steppes that have stood for hundreds of thousands of years are dying. At current rates, our oceans will be more plastic than fish within a generation. Meanwhile, despite climate action around the world, we continue to pollute our atmosphere with carbon emissions that cause cumulative economic damage that outweighs any gains. Economic factors and incentives are driving climate and ecological breakdown, and fiscal reform aims to resolve this by changing taxes, prices and consumer and business behaviour.

Genuinely strong policies will remove subsidies that support environmentally harmful practices – such as excessive use of fertiliser and pesticides – and seek immediate impact by concentrating on high-impact sectors, such as forestry, agriculture, construction, or chemicals. The most ambitious approaches include significant funding for restoring nature, perhaps through earmarking a proportion of the national budget, and align fiscal policy with the 'polluter pays' principle. Weaker policies will ignore existing subsidies or have significant gaps in coverage of individual sectors.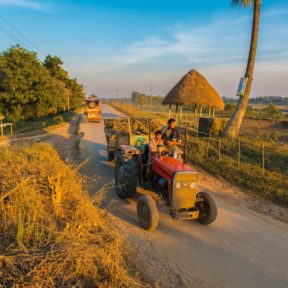 Case Study: Bangladesh
Bangladesh's approach to fiscal reform and environmental taxation is focused on the contribution nature can make to mitigating climate change. The Climate Fiscal Framework (CFF) aims to "…provide a roadmap for climate finance in the country's public financial management systems…" and make a direct link between budget allocation, fiscal decision making, and environmental issues. Civil society groups are involved in reviewing the regular climate budget reports, but though this policymaking structure has mainstreamed nature into fiscal decisions, ambitious reform proposals are still to be determined.
Bangladesh Country Profile