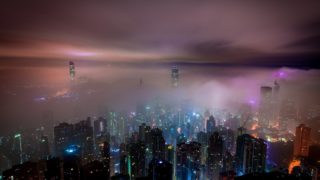 Our economies are designed to deliver productivity and efficiency above all else. In the past, this has generated huge wealth and lifted millions out of poverty. But this prosperity has come at a price - one that now threatens to undo decades of progress.
One million species are facing extinction. The globe is warming faster than expected. Environmental breakdown is destabilising societies and giving rise to dangerous new diseases, like COVID-19. And rising inequality stokes fear, division, and political turmoil.
Scientists agree we have just one decade to prevent irreversible damage to our natural world – on which we all depend.
The solution
It does not have to be this way. Economies are not set in stone: they can be structured, designed and governed differently. A new economy is possible – one that respects nature's limits, prioritises wellbeing, and moves money where it matters. And these new economies are already emerging.

The Green Economy Tracker charts 21 'best in class' policies, across 5 themes, that are already driving change towards a safer future. These policies already exist around the world, and they are working. But no single country has undertaken them all. When taken together, these 21 policies will drive systemic change in our national economies – let's hold our governments to account.
21 trackable policies across 6 themes
and a unique policy to track our recovery from this global crisis